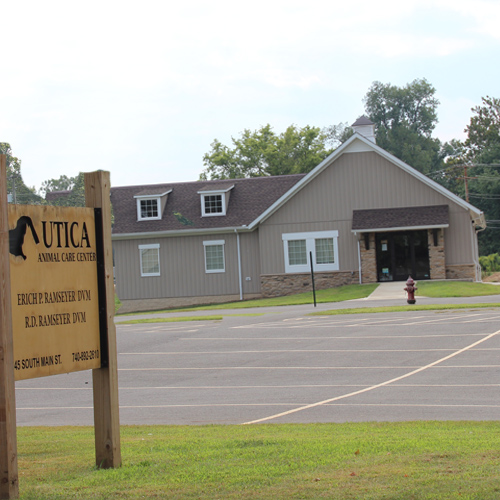 Erich P. Ramseyer, DVM
145 S Main St
P.O. Box 538
Utica, OH  43080-0583

uticaanimalcarecenter145@gmail.com
(740) 892-2610 | Fax 7408924045
Hours
Mon–Thur 9am - 6pm
Fri & Sat 9 am - Noon


After hours emergency service and house calls are available.

Utica Animal Care Center, LLC is a second generation Utica Business. We opened our doors in August 2013 with Dr. Erich and Angela Ramseyer taking over the reigns from Dr. Richard and Bonnie Ramseyer. With the change in ownership also came a move into our brand new facility located at 145 South Main Street. Our new building features a spacious waiting area where hopefully you will spend very little time before being seen in one of the three exam rooms. If your pet needs diagnostics we have the capability of doing basic bloodwork in house as well as daily courier pickup to one of the nations premier diagnostic labs. We offer digital radiology ir xrays so we can more expediently diagnose your pet. We also have a dedicated dental suite to better care for your pets oral health. It features digital dental xray as well so that we can review the unseen aspects of any issues we encounter. Surgery is performed 4 days a week, everything from basic spay and neuter to tumor removals and knee surgery. We offer grooming for our clients and have much more room for boarding than in the past. We also have a separate area for our feline patients to board with us or recover from procedures away from our canine patients who are sometimes a little loud. Our large exercise area is secure with a 10 foot fences that are buried underground to keep your pet where they are supposed to be.